SAHMITRA — Nike menuntut perusahaan MSCHF asal Brooklyn karena menjual sepasang "Sepatu Setan" kontroversial. Sepatu itu mengandung setetes darah manusia di solnya. Sepatu seharga 1.018 dollar AS (Rp 14,7 juta) itu menampilkan salib terbalik, pentagram, dan tulisan "Lukas 10:18", dan dibuat dengan menggunakan modifikasi Nike Air Max 97s.
MSCHF merilis sepatu 666 pada Senin (29/3/2021) bekerja sama dengan rapper Lil Nas X dan mengeklaim bahwa sepatu-sepatu itu terjual habis dalam waktu kurang dari satu menit.
Nike mengeklaim telah terjadi pelanggaran merek dagang. Sepatu hitam dan merah itu "diluncurkan" oleh MSCHF pada hari Senin, bertepatan dengan peluncuran lagu terbaru Lil Nas X Montero (Call Me By Your Name), yang memulai debutnya di YouTube pada Jumat lalu. Dalam video musik itu, rapper tersebut terlihat meluncur dari tiang penari telanjang dari surga ke neraka, mengenakan sepasang sepatu trainer.
Video itu mengacu pada ayat Alkitab Lukas 10:18 – "Jadi Dia mengatakan kepada mereka, 'Aku melihat Iblis jatuh seperti kilat dari langit." Setiap sepatu menampilkan sol dengan bantalan gelembung udara khas Nike, berisi tinta merah sebanyak 2,03 ons dan setetes darah manusia, yang disumbangkan oleh anggota kelompok seni.
Perusahaan sepatu raksasa, Nike, dalam gugatannya ke Pengadilan Distrik AS untuk Distrik Timur New York bahwa mereka tidak menyetujui atau mengesahkan Sepatu Setan itu.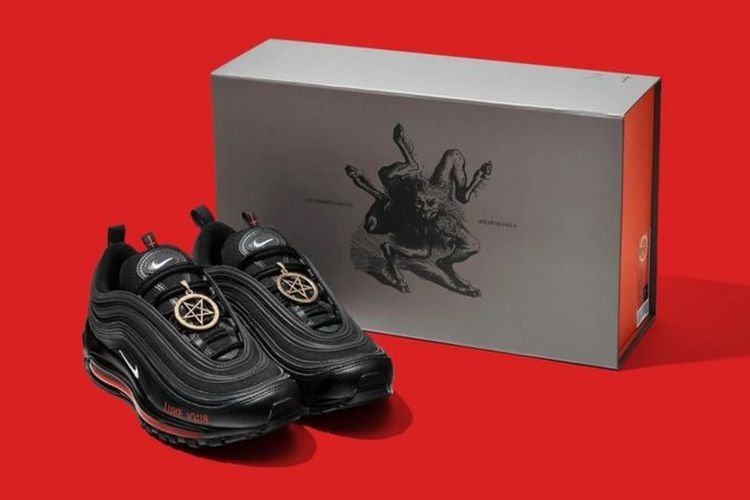 Nike meminta pengadilan untuk menghentikan MSCHF menjual sepatu itu dan mencegah mereka menggunakan tanda Swoosh khas Nike yang terkenal.
"MSCHF dan Sepatu Setannya kemungkinan besar akan menyebabkan kebingungan serta menciptakan keterkaitan yang keliru, antara produk MSCHF dan Nike," kata Nike dalam gugatannya.

"Faktanya, sudah ada bukti kebingungan yang signifikan yang terjadi di pasar, termasuk seruan untuk memboikot Nike sebagai tanggapan atas peluncuran Sepatu Setan MSCHF, berdasarkan keyakinan yang keliru bahwa Nike telah mengizinkan atau menyetujui produk ini."
Gugatan tersebut mengutip unggahan akun Twitter @Saint Jumat lalu, yang mempromosikan sepatu itu.
Beberapa Konservatif, termasuk Gubernur Dakota Selatan Kristi Noem, dan beberapa pengikut agama, tersinggung dengan desain sepatu yang kontroversial itu dan mengkritik Lil Nas X dan MSCHF di Twitter.
Our kids are being told that this kind of product is, not only okay, it's "exclusive." But do you know what's more exclusive? Their God-given eternal soul.

We are in a fight for the soul of our nation. We need to fight hard. And we need to fight smart. We have to win. https://t.co/m1k1YWFpuo

— Governor Kristi Noem (@govkristinoem) March 28, 2021

Lil Nas X membalas gubernur dan kritikus lainnya di Twitter, dan pada hari Senin ia mengunggah beberapa meme di profilnya sebagai tanggapan atas berita tentang gugatan Nike.